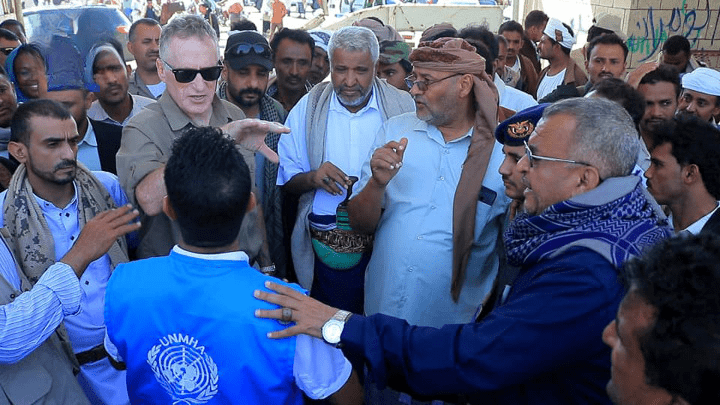 Hodeida Governor, UNMHA's Chief inspect situation in Hodeida's southern districts
Governor of Hodeida province, Muhammad Ayash Quhaim, and Head of the United Nations Mission to Support Hodeida Agreement (UNMHA), General Michael Berry, visited on Wednesday a number of southern districts in the province.
Quhaim and the UN team visited the districts of Al-Durayhimi, Bait Al-Faqih, Zabid, Al-Tuhita and Al-Jarrahi, and saw the government facilities that were severely damaged as a result of the bombing of the Saudi-led coalition warplanes, and the effects of these damages on the lives of citizens.
During the visits, they also inspected a number of wounded due to the coalition air strikes and mine and cluster bombs remnants laid by the coalition forces in the western coastal districts and the southern districts of Hodeida.
Governor of Hodeida called on the UN mission to work on implementing the outputs of the Sweden Agreement, including the protection of civilians, and to put pressure on the coalition to allow the entry of demining equipment to reduce human losses.
Quhaim also called for lifting the siege on the port of Hodeida and the restrictions imposed on the Red Sea ports, and implementing the pledges that were agreed upon in the agreement.
For his part, General Beary confirmed that the mission would double efforts and coordinate with the relevant international bodies to fulfill their commitments regarding the situation in Hodeida.
YPA