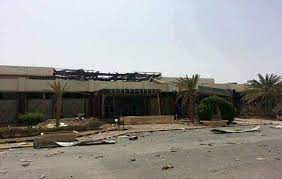 Sanaa commemorates International Civil Aviation Day among ruins of destroyed Hodeida Airport
The General Authority of Civil Aviation on Wednesday commemorated the International Civil Aviation Day from the Hodeida International Airport destroyed by the Saudi-led coalition because of its economic and social importance to the Yemeni people.
In a statement, the authority condemned the systematic destruction of the facilities and airports of the Republic of Yemen in full view of the world, which was met with a shameful international silence.
The authority also condemned the continuation of the blockade imposed on the movement of travelers to and from the Republic of Yemen, indicating that three flights per week to and from Sanaa International Airport are not sufficient to meet the needs of travelers.
It renewed its call to the United Nations and the International Civil Aviation Organization (ICAO) to assume their responsibilities regarding what is happening to civil aviation in Yemen.
The authority called on the United Nations and ICAO to work in accordance with international and humanitarian laws that were approved to protect people and preserve their basic rights, holding the coalition responsible for all damages to the infrastructure and the suffering of Yemeni people.
YPA