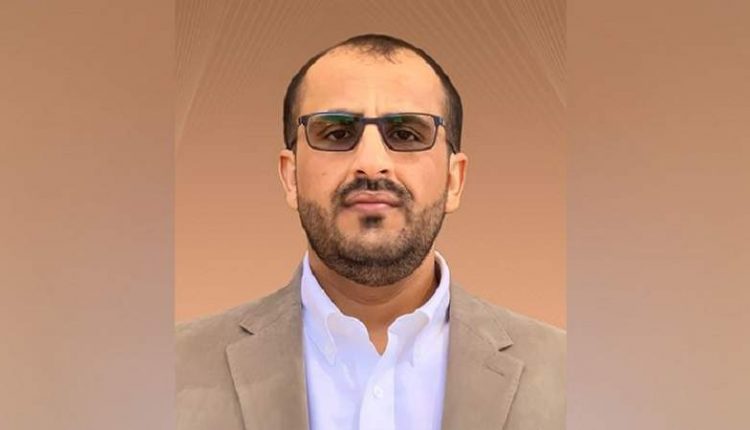 Abdulsalam: Month to Pass Since UN Sponsored Truce Announced with No Progress
 The head of National Delegation, Mohammed Abdulsalam, denounced the near passing of a month of the UN sponsored humanitarian truce with no progress in its most important provisions, including the reopening of Sana'a International Airport.
He holds the US-Saudi aggression responsible for its lack of commitment, and he calls the United Nations to meet its responsibility in accordance with the agreement it sponsored.
In early April, the UN envoy to Yemen announced a UN-sponsored humanitarian truce for a period of two months. The truce, meant to halt all military operations in the country and bring the foreign military invasion to an end, came into effect on April 2.
The deal stipulates halting offensive military operations, including cross-border attacks, and allowing fuel-laden ships to enter Yemen's lifeline al-Hudaydah port and commercial flights in and out of the airport in the capital Sana'a "to predetermined destinations in the region."
one month has passed for the entry into effect of the humanitarian and military truce brokered by the UN, but without significant progress.
The airport is still deserted and has not received any flights, in light of the obstacles created by the coalition of aggression. The past weeks was supposed to witness at least two commercial flights to and from Sana'a International Airport.
Well-informed sources in Sana'a say that there are complications by the aggression side, in light of its insistence on taking over the issuance of passports and visas.
The matter also applies to the port of Hodeidah. While the countries of aggression were supposed to facilitate the smooth flow of ships to the port, under the truce, the inspecting ships are still subject to inspection, and are detained off the coast of Jizan despite obtaining UN permits and licenses.
On the ground, the fires of the aggression side did not subside along the fronts, on the borders and inside. Shelling, reconnaissance, development and crawl, including a failed advance carried out by mercenaries towards Army and Popular Committee sites south of Marib.
All indicators do not serve the steadfastness of the humanitarian and military truce, and provide evidence that Sana'a continues to exercise restraint, in the face of heterogeneous parties that do not abide or respect their commitments to a truce sponsored by the UN.
The head of the National Delegation stressed on Sunday that the continued closure of Sana'a International Airport proves the lack of seriousness of the US-Saudi aggression to bring peace.
"The continued closure of Sana'a Airport by not allowing the flights agreed upon in the UN-sponsored truce and obstructing the fuel tankers is clear intransigence that proves the lack of US-Saudi seriousness to bring peace,"  Mohammad Abdulsalam wrote in a tweet on his Twitter account.