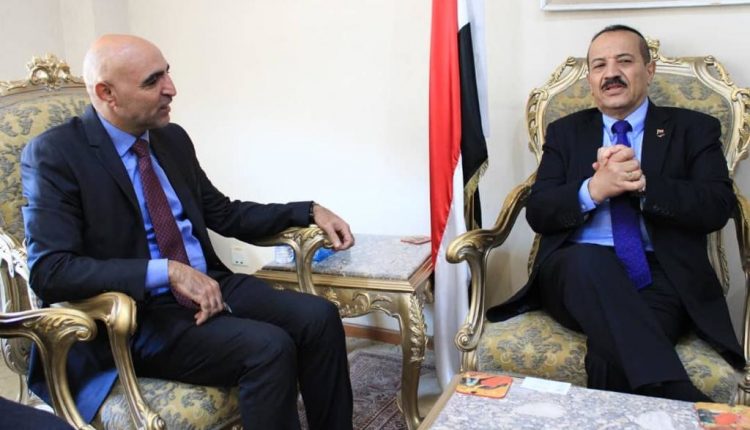 FM meets Deputy Regional Director of OCHA
Minister of Foreign Affairs Hisham Sharaf has met with Deputy Director of the OCHA Regional Office for the Middle East and North Africa (ROMENA) Tareq Talahma, who is currently visiting Yemen.
In the meeting, the foreign minister made it clear that the suffering of the Yemeni people is a direct result of the blatant interference of the US-Saudi-Emirati aggression in the Yemeni affairs under flimsy pretexts.
He stressed the governments and officials of the aggressive countries that took the decision to intervene must bear the consequences of the disasters, suffering, tragedies, and losses inflicted on the Yemeni economy.
Sharaf pointed out that addressing the repercussions of the humanitarian catastrophe in Yemen is not only limited to financing and providing humanitarian aid, solidarity, and sometimes condemnation, but must go beyond it to bearing full responsibility for what has befallen Yemen during seven years of aggression and siege.
Minister Sharaf stressed the beginnings of the solution lie in taking a courageous and responsible decision to stop the aggression, lift the comprehensive siege, stop interfering in Yemeni affairs, and arrange comprehensive negotiations that bring together everyone involved in bringing peace to Yemen.
He said: "For the seventh year in a row, millions of Yemenis are being systematically starved in an unsuccessful attempt to bring the Yemeni people to their knees, by continuing to impose a siege on Sana'a International Airport, and preventing and obstructing the entry of ships loaded with oil derivatives, household gas, foodstuffs, and commercial goods to the port of Hodeida port.
The Minister of Foreign Affairs called on the United Nations delegation for humanitarian affairs to go to the field on the Yemeni street and see the tragedies that occur daily, and they will discover the extent of the heinous crimes committed by the US-Saudi aggression.
He explained the Yemeni citizen, by nature, is active and able to work and give and does not want to rely on receiving international humanitarian aid. Rather, he needs peace, security, stability, and opening job opportunities for him, stressing that this will only be done by stopping the military aggression, lifting the siege, and stopping foreign interference in Yemen.
For his part, Talahma stressed that OCHA attaches great importance to addressing the humanitarian catastrophe, in addition to its support for a peaceful political solution in Yemen.
H.H
resource : SABA