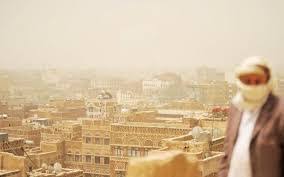 Wide dust wave sweeps capital Sanaa, several provinces
A widespread wave of dust swept on Sunday evening the capital Sanaa and several Yemeni desert and mountainous provinces, originating from the center and northeast of the Arabian Peninsula.
Hours ago, the National Center of Meteorology announced the detection of a wide mass of dust currently affecting the northern parts of the deserts of the provinces of Mahra and Hadramout, and parts of the provinces of Marib, Jawf, and Saada, and parts of Shabwa, Bayda, Amran and Sanaa provinces may be affected.
The center warned citizens, especially the elderly, children, and asthma patients, not to be directly exposed to dust, and advised them to use special masks to preserve their health.
It also warned vehicle drivers against a decrease in the horizontal visibility on the desert roads in the provinces of Mahra, Hadramout, Marib, Jawf, Saada, and Shabwah, as well as on the highways.
YPA