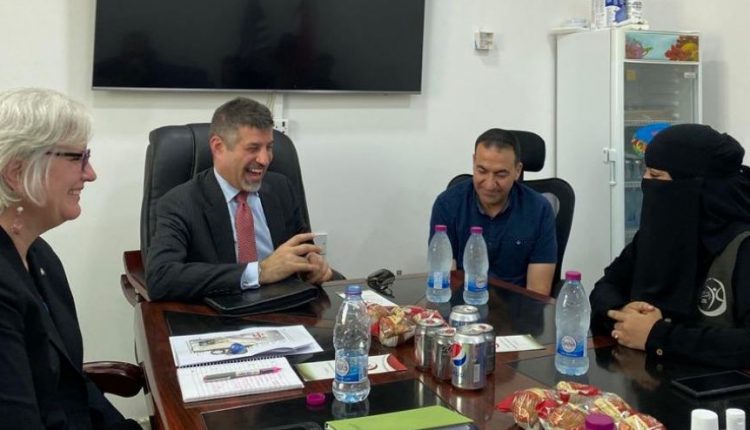 US takes hostile move to establish military base in Hadhramaut
The US Embassy in the Saudi-led coalition-backed government revealed a surprise visit by the ambassador Stephen Fagin to the oil-rich province of Hadhramaut, eastern Yemen.
"He met with local officials in Hadhramaut and discussed efforts to address the challenges facing Yemen's largest province," the ambassador said in a message posted on the embassy's Twitter account on Monday.
"The ambassador discussed the UN-brokered truce, which he considered as key to building  economic recovery that can improve lives and provide space for a comprehensive political process", the embassy added.
In another tweet, the embassy said Ambassador Fagin "met with USAID partners and learned about their work in the fishery, livestock, honey and horticulture sectors.
Informed sources in the province confirmed that the visit of the US ambassador, on Monday to Hadhramaut, a day after he met  with the so-called Rashad al-Alimi, the head of Riyadh-formed  presidential Council in the Saudi capital Riyadh
The visit comes as part of the US arrangements to establish a military base near Al Rayyan airport, which the UAE occupation turned into a joint  military base with the US forces since 2016, following the expulsion and withdrawal of al-Qaeda elements from the city of Mukalla, the capital of the province.
The sources said that a number of US military officials accompanied the ambassador during his visit to Hadhramaut and discussed the possibility of establishing an independent military base and reopening al-Rayyan airport to civilian flights, due to the increased of local demands.
The US forces have deployed in various areas of Hadhramaut, Shabwah and Mahrah, which are being far away from confrontations over the past years.
These provinces have a strategic location and contain huge amounts of oil and gas reserves, which make a seductive place for international ambitions to control oil wealth, after occupying the ports of Aden, Mukalla and Shabwah, and Nashtun in Mahrah, amid failed attempts to capture the port of Hodeidah over the past years.
E.M