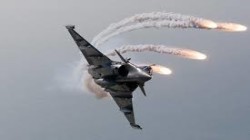 Coalition warplanes launch 28 raids on Marib, Hodeida, Najran
The US-backed Saudi-led coalition fighter jets waged on Sunday 28 air raids on separate areas of the provinces of Marib and Hodeida and Najran sector, security sources reported.
The sources confirmed that the coalition warplanes targeted Marib with 23 raids, all of which focused on areas in Serwah district.
The combat spy planes of the coalition launched three raids on Al-Faza and Al-Jabaliya area in Hodeida province, while Al-Suah area off Najran was hit by the coalition warplanes two times, according to the sources.
YPA