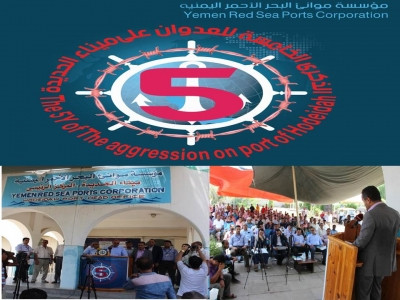 Red Sea Ports Corporation marks coalition airstrikes on Yemeni ports
The Yemeni Red Sea Ports Corporation on Monday held a press statement to mark the fifth anniversary of the targeting of the corporation's ports by the Saudi-led aggression airstrikes on in August 2015.
In the statement, deputy chairman of the Board of Directors, Yahya Abbas Sharaf al-Din, reviewed the damage and destruction to the infrastructure of the corporation's ports, by the coalition forces in a systematic work to paralyze and neutralize the movement of the ports from providing its services to the Yemeni people.
Sharaf al-Din, affirmed that targeting the corporation's ports was a violation of international humanitarian law and conventions, including the four Geneva Conventions, which criminalize targeting vital and economic facilities.
The statement affirmed that the corporation of the ports has lost two billion, 160 million and 316 thousand dollars since the beginning of the aggression in 2015.
It stressed the need to lift the restrictions imposed on the commercial goods, oil derivatives, and medicines through all Yemeni ports, pointing out that the forces of the aggression ahs been still practicing maritime piracy against oil ships permitted by the United Nations and (UNVM).
The statement called on the international community to play its role in ending the aggression and lifting blockade imposed on Yemen by putting pressures on the countries of aggression to implement the UN-sponsored agreements to restore security and stability to Yemen.
AA