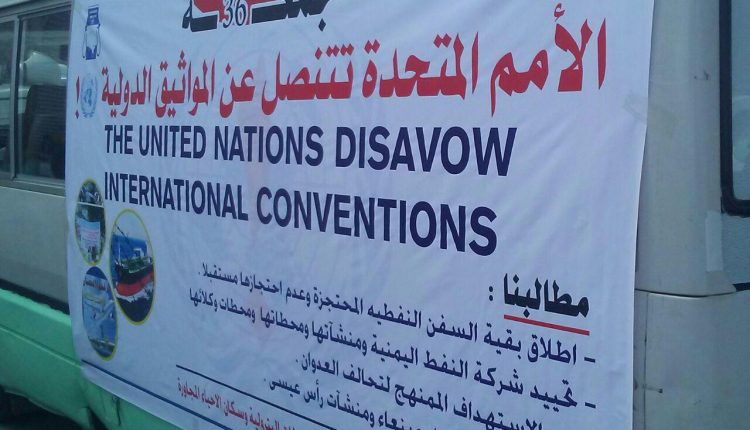 YPC staff continue to protest in front of UN office in Sanaa
The Yemeni Petroleum Company (YPC)'s employees and its unions on Friday staged a protest in front of the United Nations office in Sanaa, for the 36th Friday in row, under the title "the United Nations disavow international conventions."

During the protest vigil, YPC's spokesperson Amin al-Shabati stated that "Saudi-led aggression coalition" had released one of the eight oil ships held at sea.
Al-Shabati noted that the release of one ship does not live up to the UN envoy's statements in his briefing to the UN Security Council that oil derivative ships arrive at the port of Hodeidah without any obstacles.
The company's spokesperson held the United Nations responsible for holding the oil ships, affirming that the aggression coalition is continuing to hold oil derivative ships and prevent their arrival at the port of Hodeidah.

The protesters demanded in a statement that the ban on Sanaa International Airport and Ras Issa port be lifted and the company's oil facilities and fuel stations be neutralized from the systematic attack of the aggression coalition.
YPA