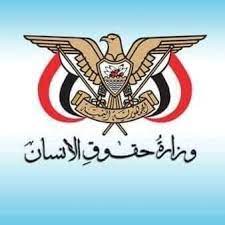 Human rights expresses concern at aggression's intransigence, its rejection of humanitarian requirements
The Ministry of Human Rights expressed grave concern at the aggression's intransigence and its rejection of the humanitarian and economic requirements owed to Yemenis.
In a statement received on Monday by the Yemeni News Agency (SABA), the Ministry of Human Rights noted the aggression States' persistent deepening of human and economic for the Yemeni people by renouncing their previous commitments, which in their entirety did not meet the lowest urgent humanitarian requirements of millions of citizens that the years of war and siege have exhausted them.
"Although six months of fragile armistice have passed, its humanitarian output is negligible compared to what the Yemeni people were looking forward to must not be subject to political bargaining, including the right to salaries and wealth looted ".
The statement of the Ministry of Human Rights stressed that the States of aggression continue to proceed towards economic and humanitarian files and bring the United Nations together no international progress has been achieved that triumphs Yemeni human beings and their legitimate rights, nor has the citizen perceived an international position that pressures the aggression coalition states as causing suffering and preventing all humanitarian solutions.
It cautioned against the consequences of the aggression coalition's intransigence towards the humanitarian and economic entitlements of Yemenis.. The major Powers and the international community, foremost among them the United States, have the responsibility to obstruct the armistice efforts and deepen human suffering and these policies have negative implications for the humanitarian situation in all areas.
The Ministry of Human Rights affirmed that Sana 'a's demands relate to the people and to the most affected groups and are not factional and that this distortion is obtained by Sana'a it is because of its triumph over people's suffering and the difficult situation left by aggression and siege.