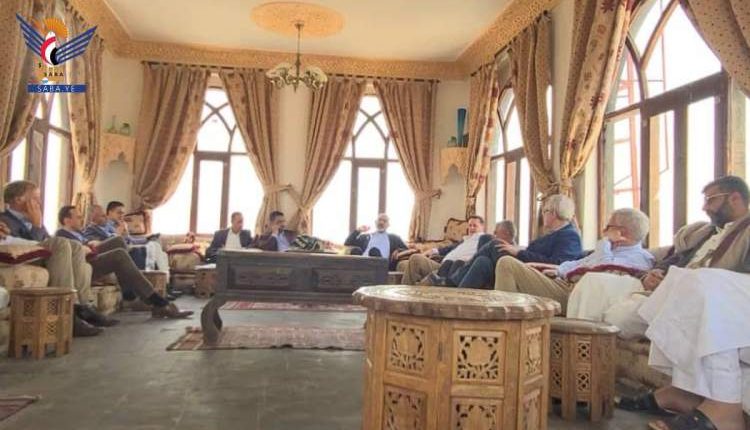 It was agreed to provide alternative permanent vessel for Safer floating reservoir: SRMAC
The Supervisory Committee for the Implementation of the Urgent Maintenance Agreement and the Comprehensive Assessment of the Safer Floating Reservoir indicated that the meeting was held Tuesday in the capital Sana'a with the Resident Representative of the United Nations Humanitarian Coordinator in Yemen William David Grassley, in the presence of the Dutch Ambassador and engineers from SMIT Salvage Company.
Safer Reservoir Maintenance Agreement Committee (SRMAC) in a statement issued, that during the meeting, it was agreed to implement what was stated in the memorandum of understanding signed last March, which is to provide a permanent replacement ship for the dilapidated Safer floating tank due to the coalition's prevention of entry to diesel for operating the engines, which caused the suspension of all ship systems, especially the ship's system. Inert gas also caused the ship's crew to be withdrawn and maintenance work stopped.
It noted that the United Nations would send the operational plan for the replacement of Safer vessel and the transfer of crude oil from Safer floating tank to the replacement vessel, mentioning the options and methods available for the installation of the replacement vessel. Consider this step a powerful push to move forward in solving the problem of Safer tank.
The Committee commended Grassley's efforts to make the process a success. Expressing the United Nations will fulfill its obligations and not repeat what has happened in previous debates.
The statement of the Supervisory Committee for the Implementation of the Urgent Maintenance Agreement also confirmed that the Government of Sana'a will provide all necessary facilities for the success of the operation in order to prevent an environmental disaster involving the Red Sea and the region.