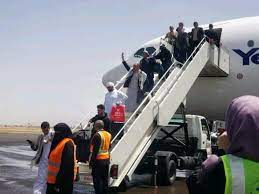 286 Yemeni travellers head from Jordan to Sanaa
About 286 Yemeni travellers arrived on Friday at Sanaa International Airport by the Yemeni Airlines flight coming from Jordan's Queen Alia Airport.
The Airbus 330 aircraft provided the air and ground navigation services with high efficiency and professionalism, according to what is done in international airports.
They called on the United Nations to consider the Cairo flights, from which only a fight has been carried out since the humanitarian truce was announced at the beginning of last April.
The passengers stressed the need to fully open the airport, especially in light of its readiness to receive all flights with high efficiency, praising the level of services and procedures provided by the airport.
AA