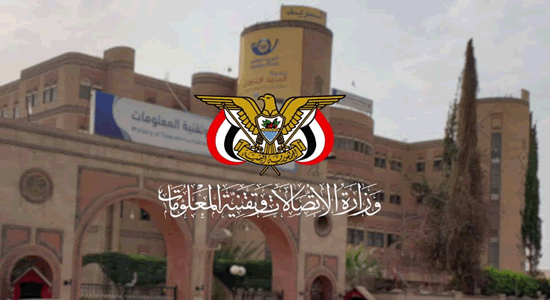 On its international day, MCIT calls for cessation of attacks, destruction of its infrastructure
 The Ministry of Communications and Information Technology (MCIT) on Tuesday renewed the demand of the United Nations, ITU, and all humanitarian and international organizations to stop all forms of war, destruction, and violations of telecommunication and Internet infrastructure and civilian installations.
In a statement issued on the occasion of the International Day of Communication and the Information Society, the Ministry called for an end to the blockade of civilian communications equipment and systems and for facilitating their entry into Yemen in order to alleviate the suffering of the Yemeni people.
The statement received by SABA called for urgent action to ensure the arrival of technical equipment for the crisis to restart the destroyed telecommunications and information technology sites and towers and restore service to the affected areas, to ensure access to communications services for the elderly and millions of their families in Yemen.
The statement called for intervention in order to secure the installation of the offshore cable (SMWS) and its branch stations in Hodeida governorate owned by Yemen's telecommunications are unconditionally operating, as well as enabling Yemeni telecommunications companies to use naval cable (AAE-1) The landing station in Aden, which has been operational since 2017 and is owned by TeleYemen and the State Telecommunications Corporation, as well as the restart of the "Aden – Djibouti" marine internet cable with full capacity.
He stressed the importance of forcing the aggression coalition States to neutralize communications services and civilian facilities, ensure the protection of communications personnel and enhance the independence and professionalism of Yemen's telecommunications institutions, companies, and services.
The Ministry of Communications again held the aggression coalition states legally and morally responsible for the systematic destruction of the telecommunications sector's infrastructure.
It also reiterated its call on the international community, the International Telecommunication Union (ITU), and United Nations, human rights, and humanitarian organizations to carry out their duties to ensure that the lowest levels of human rights of civilians remain in Yemen. It also held it responsible for ignoring this call and repeated earlier calls, while warning against continuing silence and complicity with the coalition of aggression.
The statement indicated that while the peoples of the world celebrate World Telecommunication and Information Society Day, the Yemeni people are exposed to the eighth year of aggression and the destruction of infrastructure and civilian facilities for the communications and information technology sector in the country.