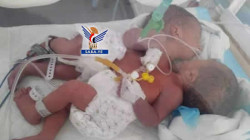 Siamese twins leave Sana'a Airport on UN medical evacuation plane
The Siamese twins Ahmed and Mohammed left Sana'a International Airport on a UN medical evacuation plane on Saturday, heading to the Jordanian capital, Amman, for the separation surgery.
In a statement to the media at Sana'a Airport, the Minister of Public Health and Population, Dr. Taha Al-Mutawakel, considered the Siamese twins as an example of what the children of Yemen suffer as a result of the war and siege.
"After fifty days of critical condition that the twins are suffering from, they are being transferred today for surgery in an urgent way," he said.
He pointed out that over 3,000 patients registered with the Ministry of Health suffer from cardiac deformities and urgently need to travel abroad to receive treatment, and more than 7,000 children suffer from chronic diseases, and 700 others suffer from leukemia and tumors and do not find medicines due to the blockade and the closure of Sana'a airport.
The Minister of Health expressed his hope that this would be a good initiative and a step to lift the siege on Sana'a International Airport.
For his part, UNICEF Representative to Yemen Philippe Duamelle said, "This is an important moment in the lives of the two children, and you have seen the Minister of Health transport the two children himself onto the plane that will take them to Jordan to receive the necessary health care."
Duamelle expressed his aspiration for the return of the two children to Yemen, with the father carrying one of them and the mother carrying the other, confirming that UNICEF would continue its support for health care services and the humanitarian aspect in Yemen.