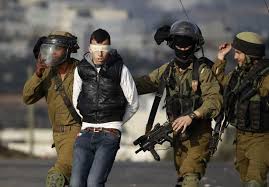 Israeli forces arrest 3 Palestinian from Al Aqsa Mosque
The Zionist enemy forces on Wednesday arrested 3 Palestinian from the courtyards of Al-Aqsa Mosque, according to Palestine Today agency.
Eyewitnesses said the enemy police pursued the boys and arrested and took them to investigate, without knowing the cause.
On the other hand, the police closed Maghariba Gate in the face of extremists and tourists.
The enemy police issued a statement in which it explained that the Maghariba Gate will be closed on Wednesday and Thursday against the incursions, without mentioning "next Sunday and the rest of the holy month."
The alleged temple groups called for the mass infiltration of the Al-Aqsa Mosque next Sunday in the so-called "Day of Unification of Jerusalem" and called on the police to open Maghariba Gate and not to close it. The police said that the situation will be determined next Sunday separately.